Inclusive for me means openness and acceptance of other people as they are. It is respect for one's experiences, the country one comes from, culture, language, values, and beliefs. This value comes from creating diverse teams so that you can draw on and learn from each other. It is building an atmosphere of trust, good cooperation, understanding and mutual care for each other while taking care to maintain a balance in professional and private life. It is also empathy, kindness and courtesy in everyday communication and the ability to listen to the needs of others.
Anna Tarnowska
HR Director GDC PL
As a company, we strive for a continuous improvement. We accept risk in pursue for innovation and changes' support. Sometimes we make mistakes, but we learn from them. Such situations strengthen us, show that thanks to persistence we can achieve a lot. I believe that boldness and courage are the key to success, which sometimes requires us to take risks, which is precisely the value of Audacious.
Marcin Lipiński
Global Delivery Head of Operations BDS Cybersecurity, Head of BDS GDC PL
Curious describes the person who is eager to find out answers and to explore and learn new things in order to develop oneself. Permanent growth, boosting professional experience, looking for new challenges is something I keep on doing regularly which makes me satisfied and on the other hand is something desired by the company, our clients and stakeholders. You should never stand still especially in the IT company.
Leszek Ciemny
Procurement Director GDC PL
Here at Atos, we begin and end each day with the word "responsibility" in our minds. We care deeply and we feel responsible. Responsible for the clients' best interests, responsible for the situation in Europe, and finally, and most importantly to me personally, responsible for the planet. Responsibility equals improvement.
Anna Wanat
Legal Counsel
For me, the United value means, first and foremost, working together as part of one team and sharing a common goal. Regardless of the team we belong to, our goal is one, and that is to work together for our clients. It is for them that we build the best solutions together, provide services at the highest level and care for their level of satisfaction. We know that only by working together we can achieve success. Therefore, it is important for us to build strong ties and relationships, which facilitate the implementation of everyday business tasks and make Atos a great place for teamwork.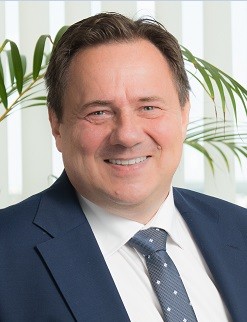 Robert Wichłacz
Vice President, Head of Atos GDC PL